Dressage Symposium In The Rockies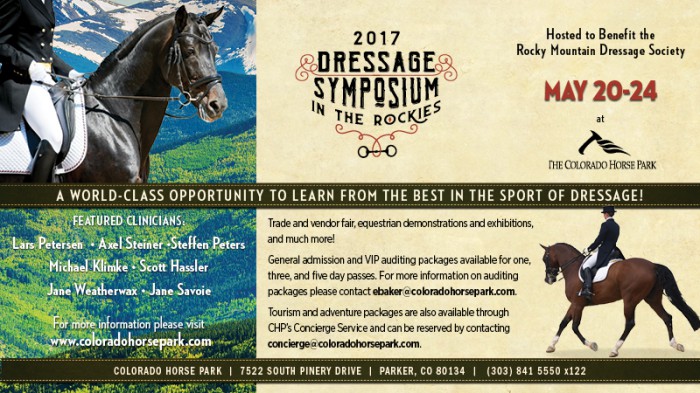 The Dressage Symposium in the Rockies (DSIR), will span five days and offer clinic and auditing opportunities with five internationally recognized dressage riders and professionals. The symposium will be hosted in benefit of the Rocky Mountain Dressage Society (RMDS) and is open to riders from around the country. The symposium will host clinic sessions focusing on mounted and un-mounted horsemanship, as well as improvements of technical dressage movements taught by masters of the sport.
Clinicians will include Lars Petersen, Axel Steiner, Steffen Peters, Michael Klimke, and Scott Hassler. Additional clinicians may be added at a later date and will be updated immediately.
A trade and vendor fair will be open to visitors and auditors throughout the week, offering top quality equestrian products and goods, while daily exhibitions and demonstrations will accompany clinic sessions throughout the five days. To reserve vendor space during DSIR, please contact lisak@coloradohorsepark.com.
General Admission packages will include an auditing notebook and pen, as well as free entrance to The Colorado Horse Park (CHP), while VIP Admission packages include daily catered breakfast and lunch, clinician meet and greet opportunities, sponsor presentations, gift bag, and VIP Parking Pass. Tourism and adventure packages are also available for booking through CHP's Concierge Service and can be reserved by contacting concierge@coloradohorsepark.com.
If interested in participating as a rider in DSIR please click here to access the Entry Form and Registration details or contact vvanburen@coloradohorsepark.com.
Auditing opportunities will be available to individuals wishing to watch and listen to clinic sessions. General and VIP auditing packages, offering one, three, or five day passes can be reserved by contacting Elizabeth Baker at ebaker@coloradohorsepark.com.
For sponsorship and advertising opportunities available during the event, please contact Sarah Tredennick at stredennick@coloradohorsepark.com.
Click here for news and media on the inaugural Dressage Symposium in the Rockies!