Admired Amateur:  Nate Rolfe
When you receive a nomination for an Admired Amateur from the Competition Manager, you know you are going to meet someone special. A Competition Manager nomination will suggest certain traits that this person would possess:  being a good horseman and competitor, organized, flexible, kind, understanding, hard working and well liked. Within moments of sitting down with Nathaniel Rolfe, it was aware that I was meeting with someone that not only possessed the previously listed qualities, but there was also another long list that could be attached to his name. Nate is smart, brave, and determined. He's both a leader and a teammate. He is a hands-on dad and a true romantic.
Nate did not grow up in this crazy, equestrian world but rather he was lured into it by his heart. Nate met Haylie Jayne, of the influential equestrian Jayne family, at a Halloween party in 2007 and within three weeks of their meeting, Nate told his mother that he was going to marry Haylie. As Nate recounted the life-changing moment, tears built in his eyes and he lost his words. Move over Hugh Grant, Nate Rolfe's got you beat in the romantic department.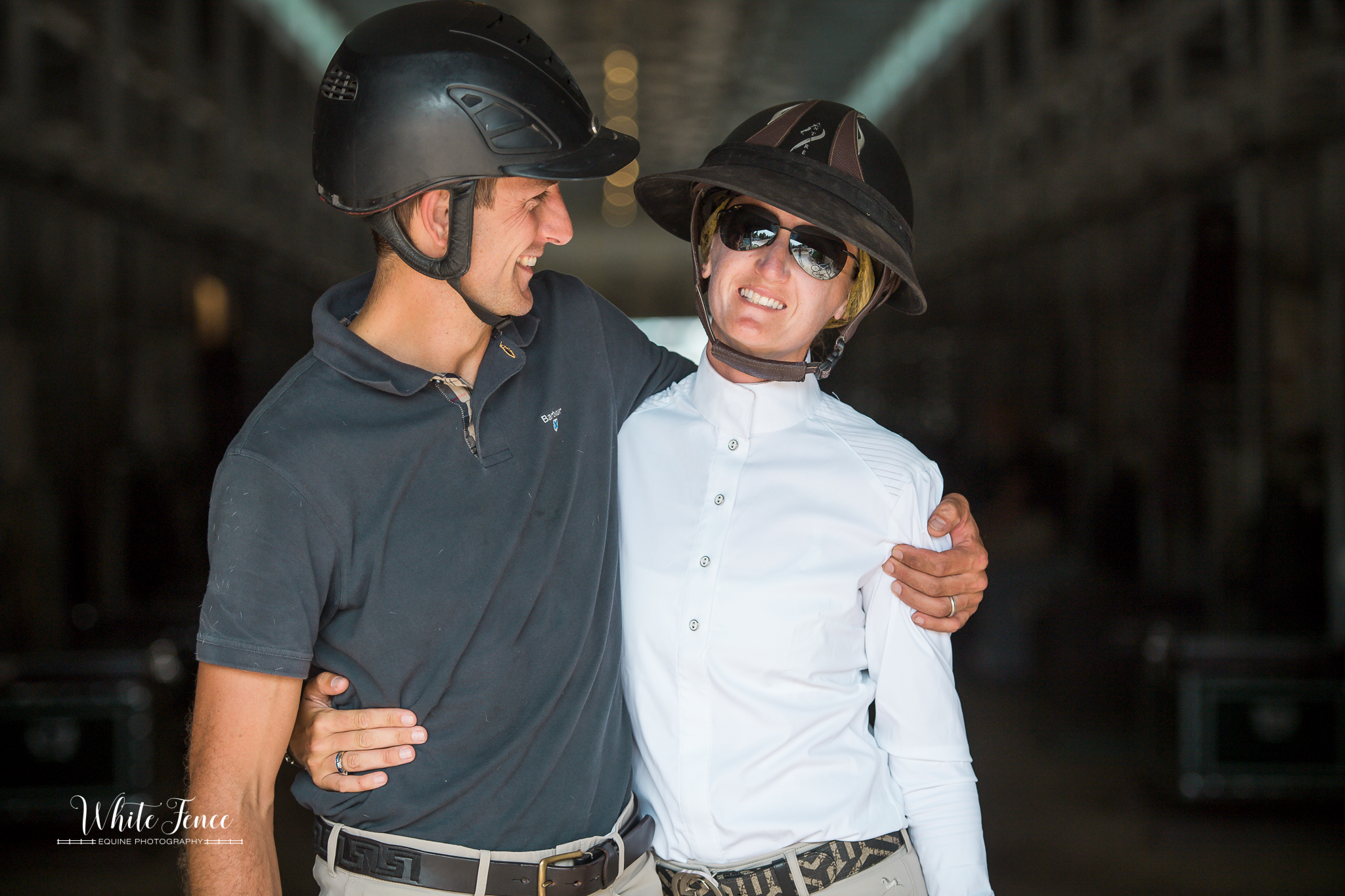 Every girl's dream is to find a guy that looks at her the way Nate looks at Haylie.
Entering the equestrian world, by way of his heart, Nate immersed himself in all things "horse". Picking up the sport as an adult can be a difficult enough task, but imagine the pressure of trying to pick it up while under the watchful eye of your new girlfriend's family. Haylie Jayne is one of three children born to industry-leaders Alex and Linda Jayne of Our Day Farm. The Jayne offspring, Maggie, Charlie, and Haylie, have all found their place in the equestrian world and the Jaynes have made their equestrian business and passion a family affair. Alex Jayne had no qualms throwing Haylie's new boyfriend in, head first. "Day one, Alex said to me, 'Here's a horse. Hop on'," Nate chuckles as he recounts the moment that he is now able to describe as "classic Alex Jayne form". Although Nate met the expedited introduction to horses with excitement, an onlooker might wonder if poor Nate was being hazed by the Jayne family to see if he was good enough for their youngest, Haylie.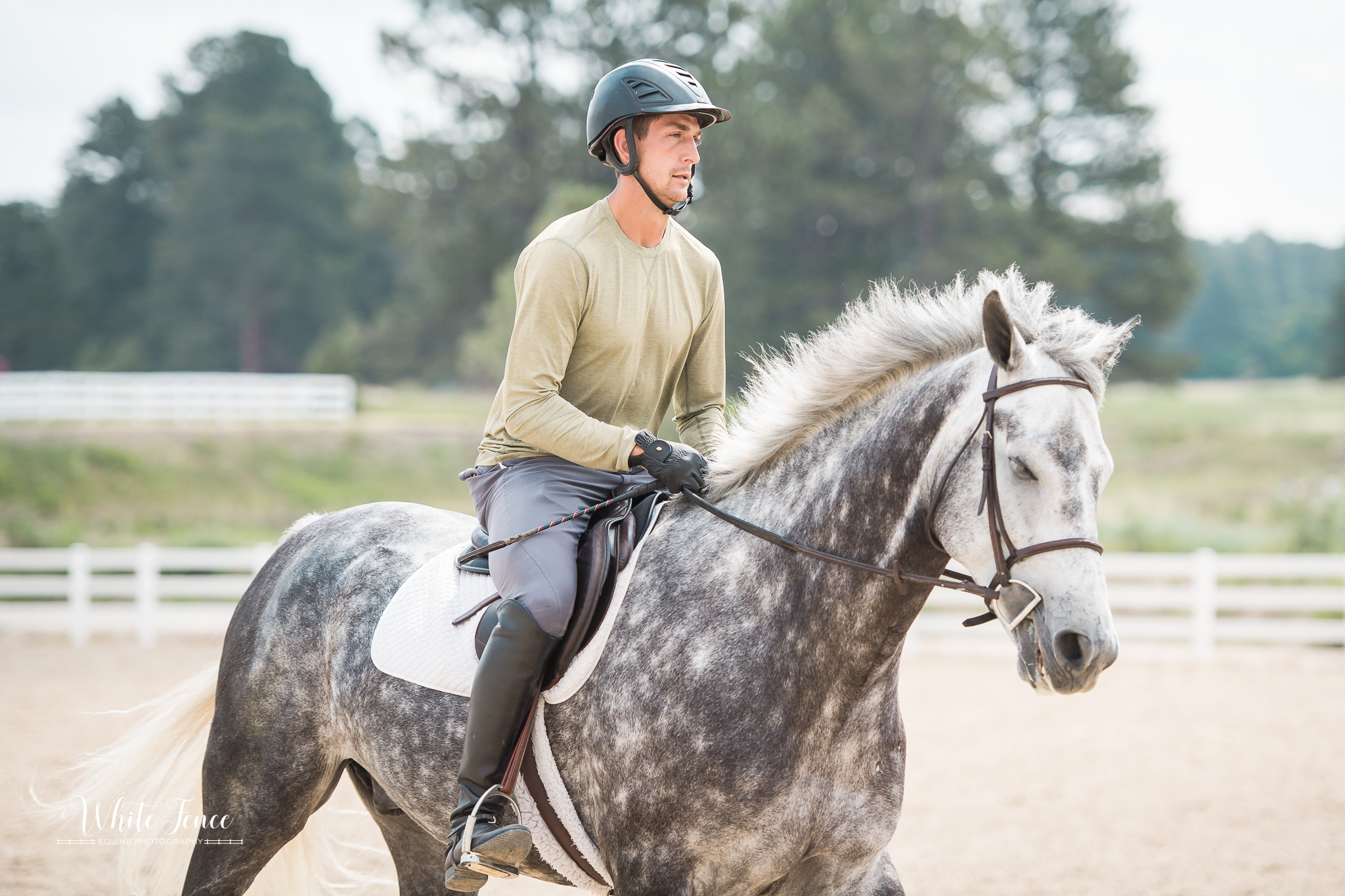 Nate and Bernoulli aka "Ice" whom Nate broke as a 3-year-old
Nate quickly summarized his now father-in-law, giving an insight to his immediate inclusion,  "Alex is the patriarch. He's a fifth-generation horseman. I would venture to say no one knows more about horses than Alex. He slept in the horses' stalls as a kid. His dad was a top racehorse trainer at Arlington Racehorse Track for many years. His mom played polo and fox hunted. He eats, breathes, and sleeps horses. He just loves them. You sit around the Jayne dinner table and it's all they talk about."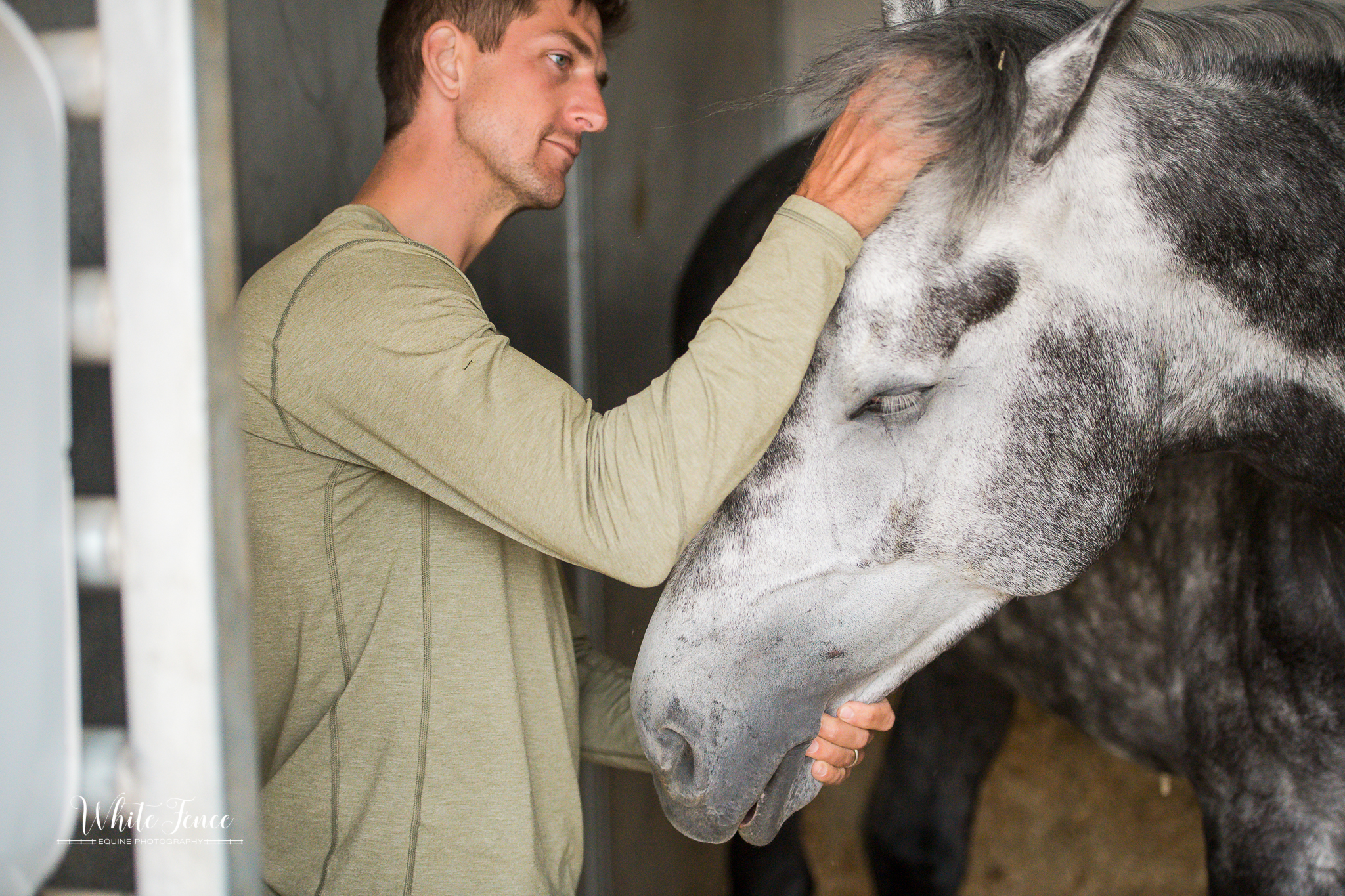 You would never know Nate hasn't been around horses all of his life

Nate continues,"When I first met Alex, I didn't know anything about horses so it was like he was speaking Chinese. But he's so fun to learn from-like if you were learning football from Bill Walsh as your next door neighbor. He was full immersion. The first thing he did was put me in a truck. It wasn't long until I was hauling horses, collecting stallions, and breaking babies. I was terrified of horses but I would do whatever he wanted. It was full immersion therapy."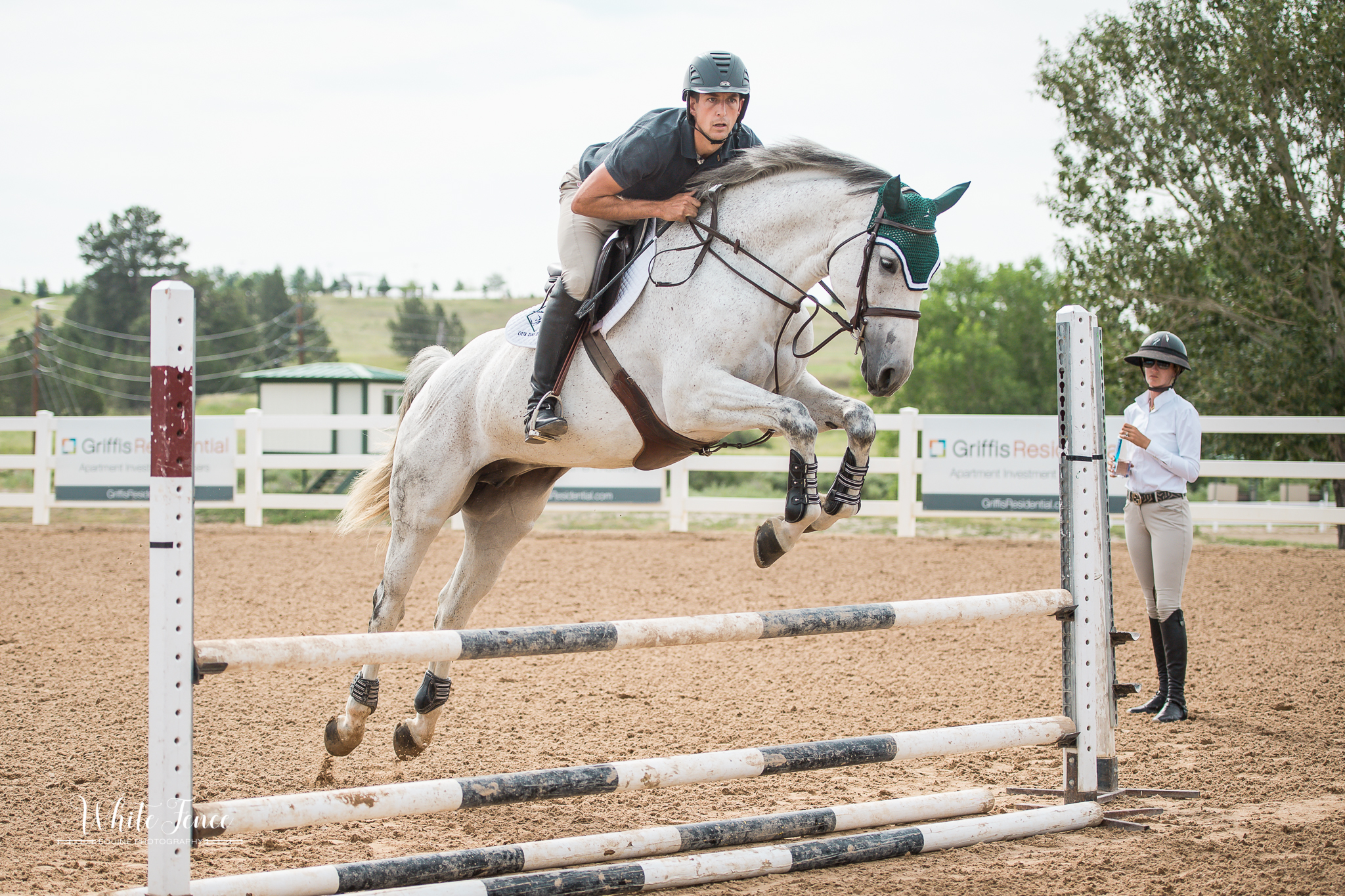 Alex Jayne usually coaches Nate but today, it's Haylie's turn
Nate made a place for himself in the Jayne family and soon after, Haylie and Nate wed in June of 2010. The couple welcomed a son, Oliver, in November of 2015 and Nate helps with a great deal of household management. "Ollie is wild. He's really fun and inquisitive. You really start to see what your kid is when they get to this age (2 ½). When they're just little blobs you love them to death. You just feed them, they sleep and burp. But as they get older you get to see what their traits are. He's very social, he's very active compared to other kids. He can be tough, but he's a pretty good kid." Nate proudly shows pictures of his mini-me, Ollie, and jokes about their physical likeness.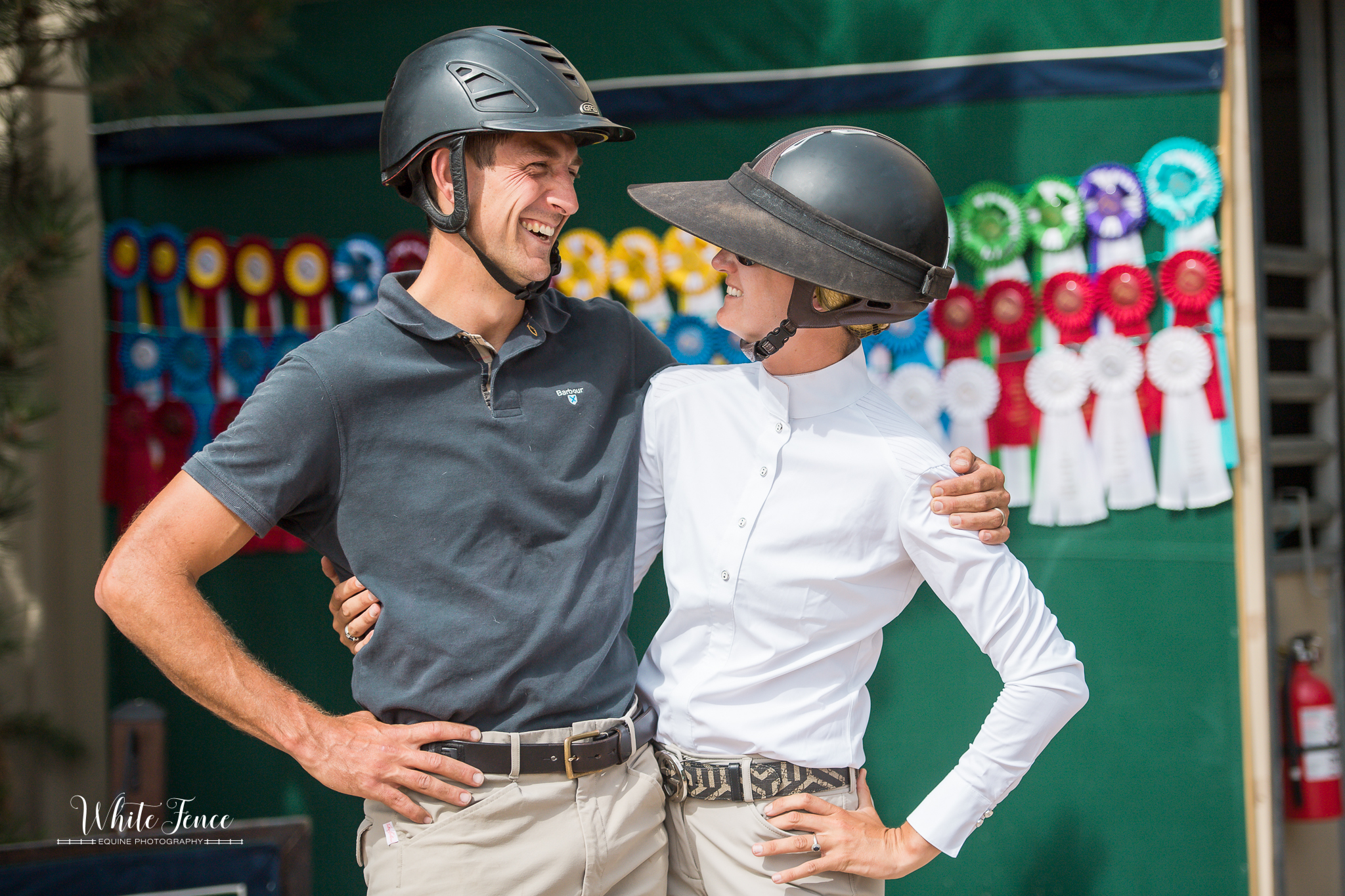 Nate and Haylie, loving life together
Firmly secured in Haylie's heart, Nate began to secure himself if the Jayne family business. As Our Day Farm has evolved over the years, Nate has taken on the newly established, breeding side of the business.  He currently manages four breeding stallions, including super-star Dulf Van Den Bisschop. Nate speaks about Dulf ALMOST as lovingly as he does of Oliver, as he scrolls through pictures of the stallion on his phone as he speaks.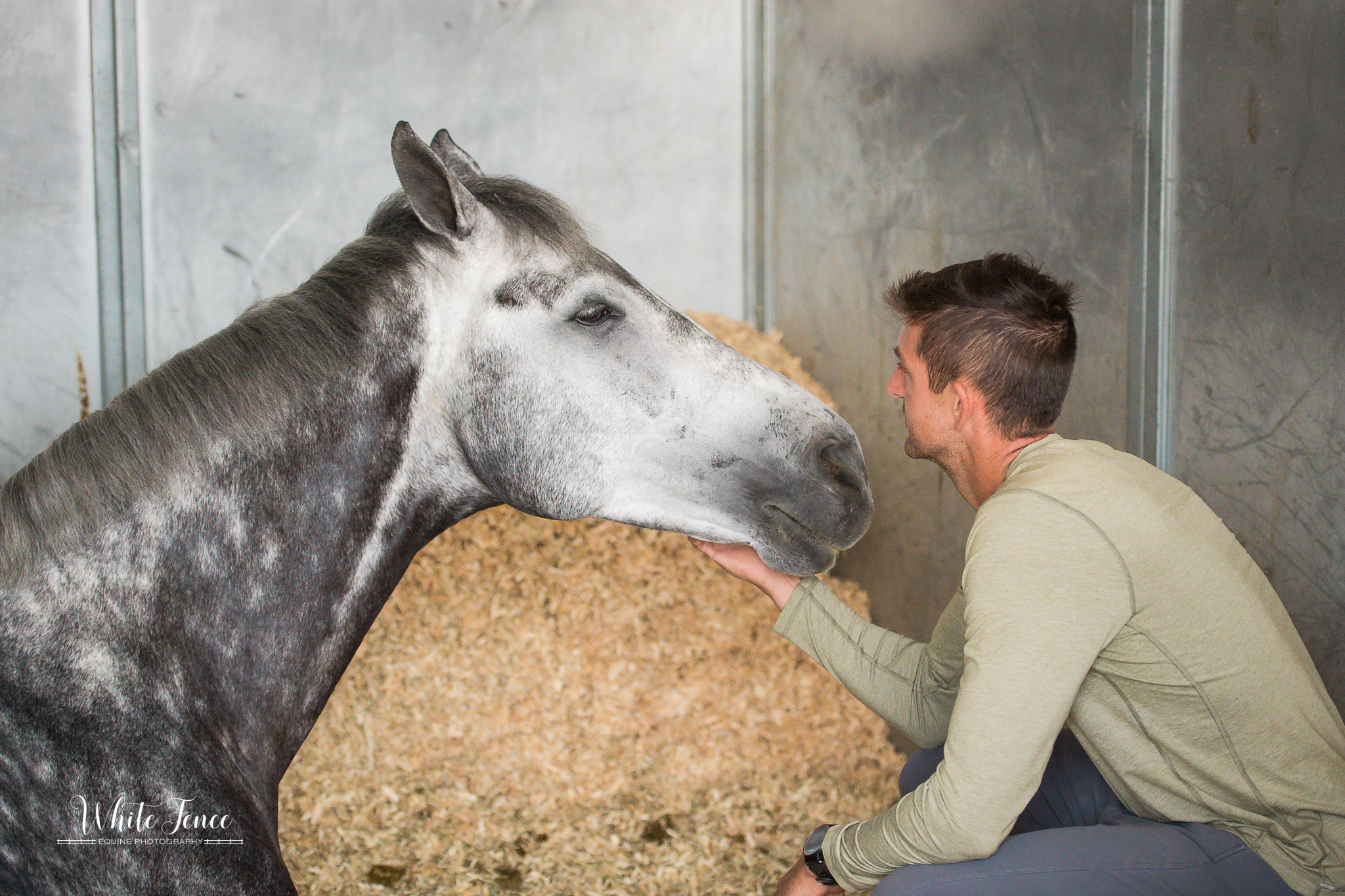 Ice, getting some mid-day scratches from Nate
"He was a top performance stallion, Kelsey Thatcher rode him in 1.55m Grand Prixs. He's very scopey, extremely careful. He's just awesome. He was the top four-year-old stallion in Europe in 2006. His babies that he bred as a four, five and six-year-old have now grown up to become some of the best horses in the world. Just to name one-Harley VD Bisschop won the $380K CSI5* Rolex Grand Prix in Tryon with Nicola Philippaerts. It's fantastic. His offspring are so successful, we pumped the brakes on his competition schedule and turned up the breeding."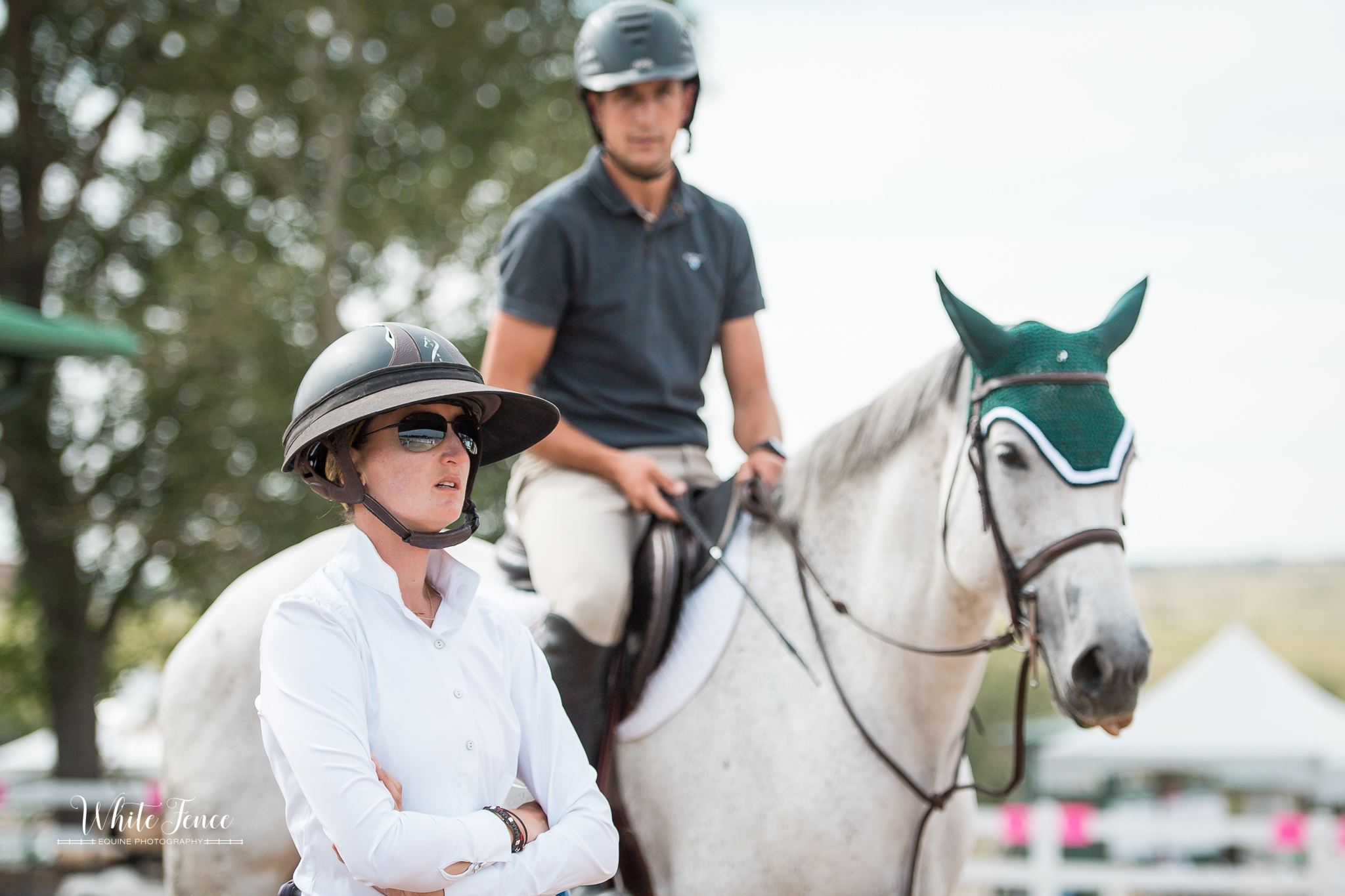 Haylie helping Nate making a game plan for his course
Nate continues speaking of his role in the business. "There for a while I was just helping but now I do it all. We have the phantom for collection, the lab, and we even handle the shipment. We've jumped into the deep end a little bit but it's been really interesting. Sometimes it's not always known what the next move is. We're right at that fun infancy of this whole program. We've had some requests from Europe for frozen semen. We've already collected and frozen around fifty doses that we're going to send to a dealer that we know well in Europe and he's going to sell there. We have another eighty doses that we've frozen for our own sake. We've already covered close to one hundred mares this year." In addition to Nate's role in the breeding business, he also manages Pony Lane Farm's facility in Wellington, Florida. He oversees the care and treatment of the horses as well as the management of the grooms.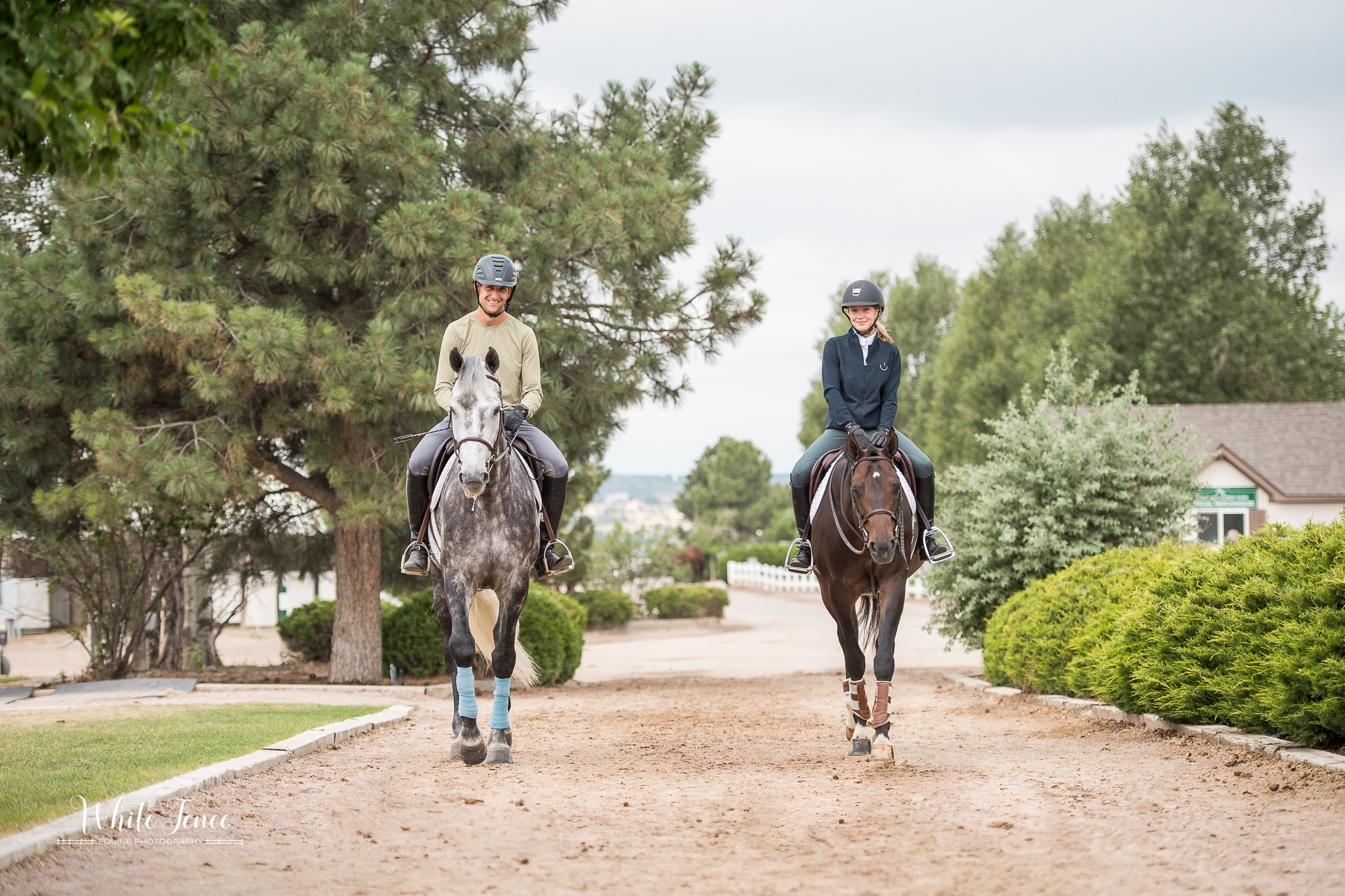 Nate and ODF rider, Ally, out for a hack
Nate, who was a psychology major in college at the University of Georgia, is a far cry from the sports psychologist he once aspired to be. Though life sent him in a different direction he is able to apply much of what he learned academically, and through his experiences competing in Track and Field. "Just by being around a lot of other elite athletes, you pick up different nuggets-how to think about things or what works and doesn't work. Talking to other athletes and meeting other good coaches, can be so educational. I remember we had the Cal-Rugby coach come, it was just after national championships. He was a legend. He gave a speech about being grateful for everything and entitled to nothing. It's in how you live your life, and in how you approach everything. That's really stuck with me and we have kind of adopted it as our family motto. You have to be thankful for what you've got and you're not entitled to any of it."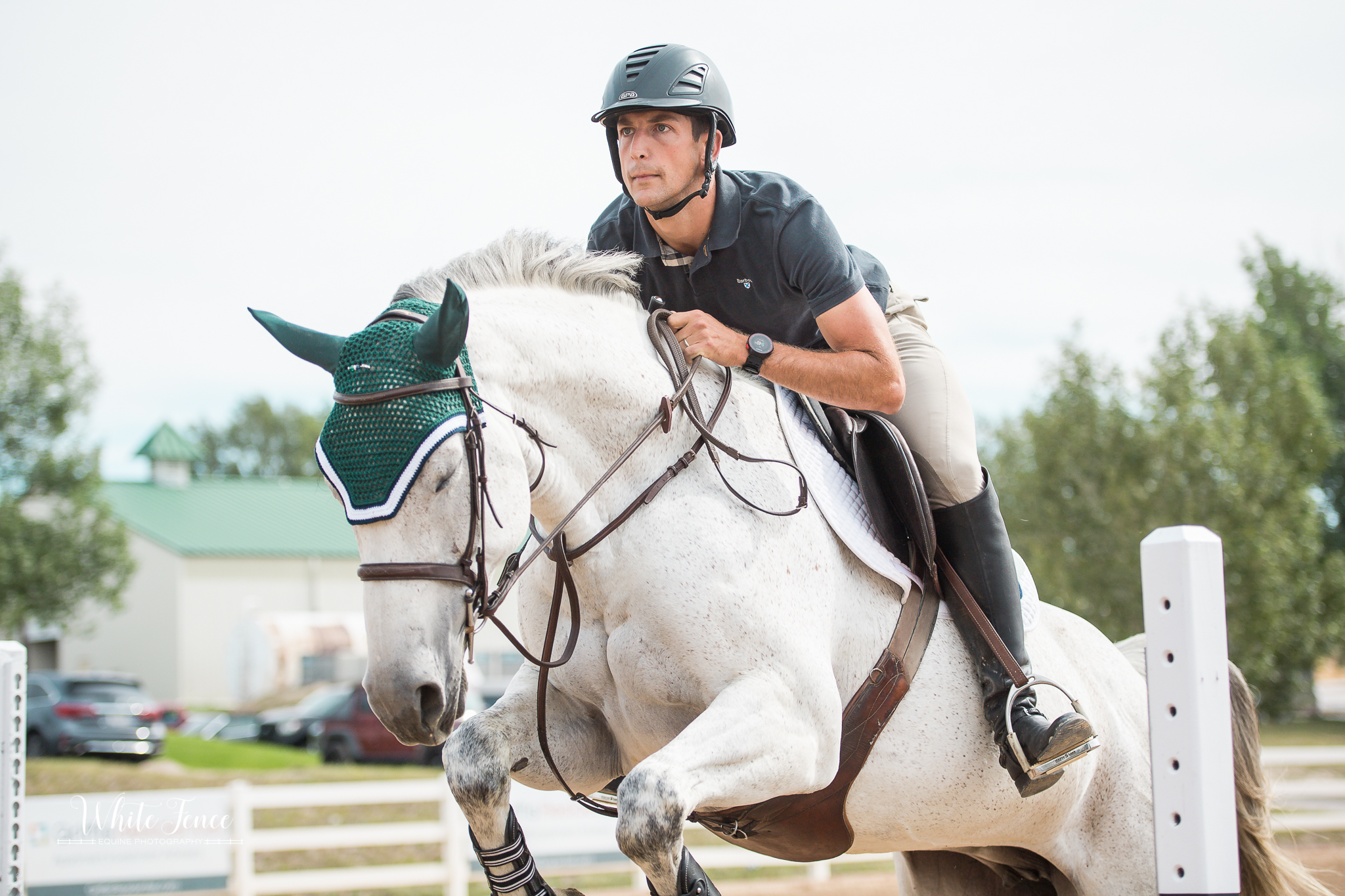 Nate and Jolita warming up before the .85m jumper class
Nate was showing at CHP in 2017 and had a bad fall. His horse slipped and fell on him in a turn, breaking his ankle. Nate has spent the last year recovering and rehabbing and not only is he showing again at CHP this year, but he is running a half marathon while he is here. Impressively, the Colorado half marathon is only the mid-way point of Nate's running goal as he plans to run a full marathon this December.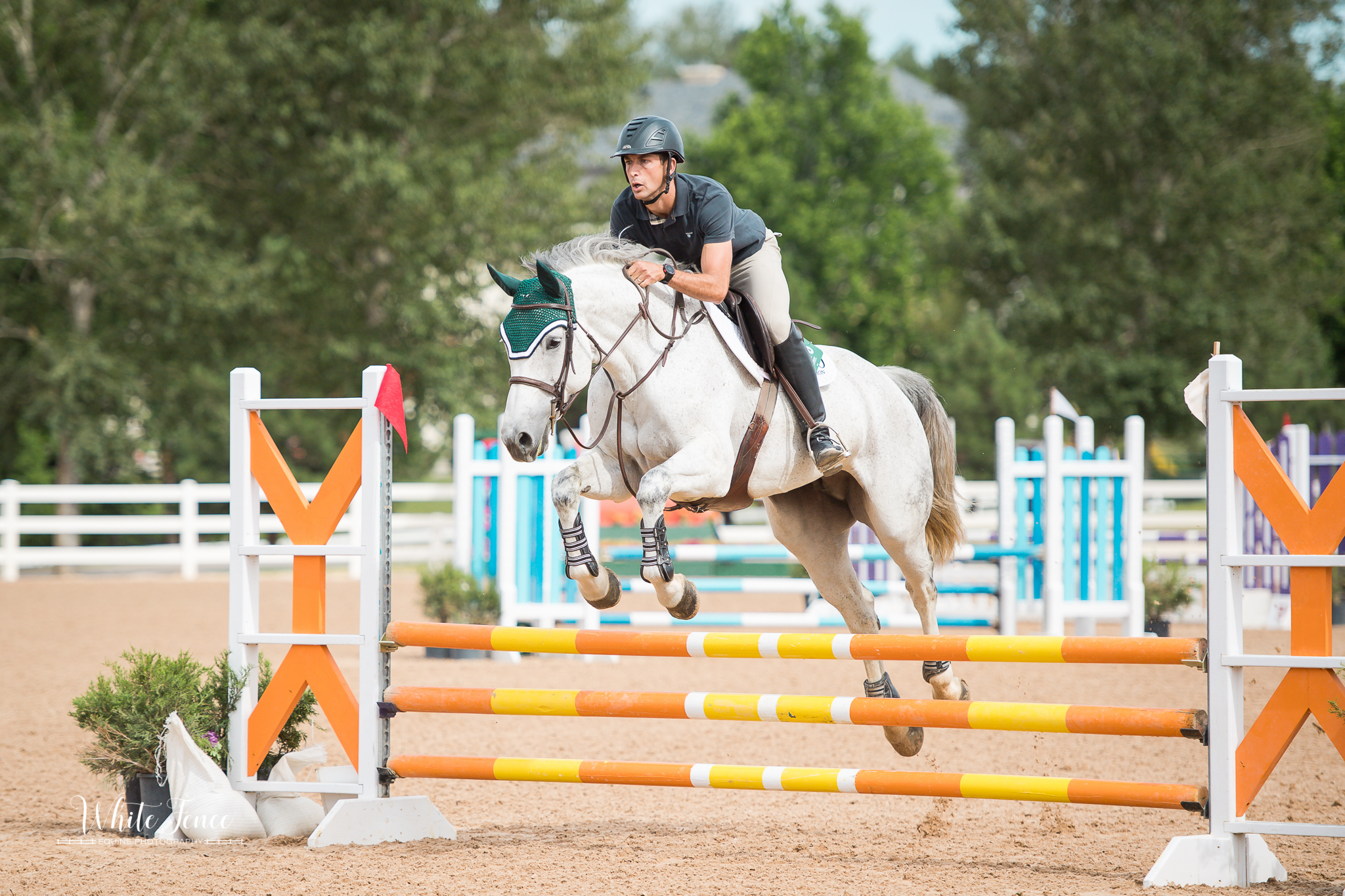 Nate and Jolita, owned by Alex Jayne
When speaking of his biggest accomplishment, Nate tells a story of buying an actual herd of horses with Haylie. "Haylie and I bought a herd of eleven, unbroke four and five-year-olds about four years ago. Just getting them into a trailer to buy them was a task. Getting halters one them was a task. We eventually got them all broke and safe, and they have all been sold. That was really cool, fun endeavour- it was trial by fire. I would say that was my biggest accomplishment."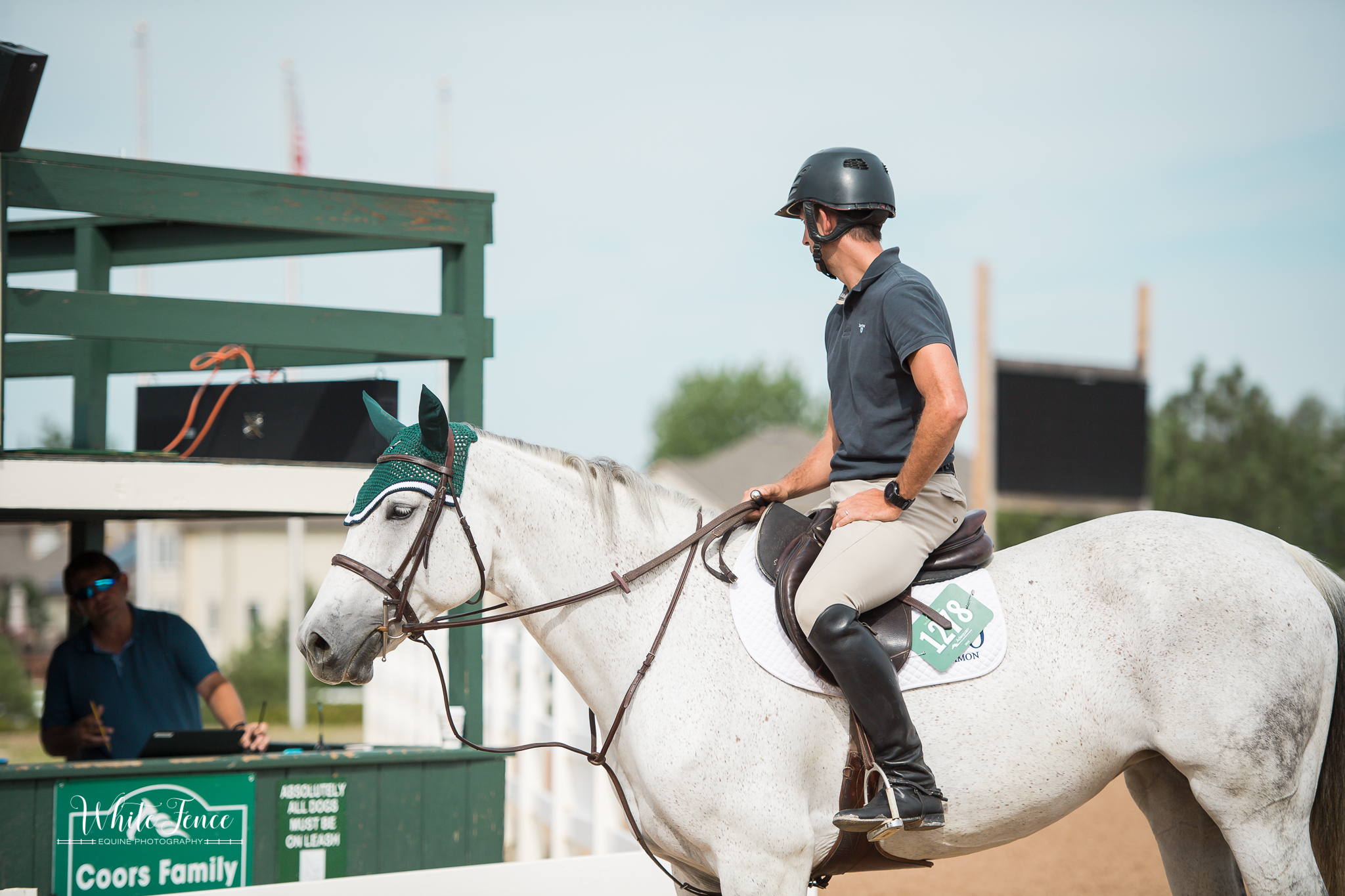 Nate, promising a ice-cold soda to the in-gate manager if he made a slight adjustment to the order-of-go.  And yes, right after his class, Nate made good on his promise!
The transition from a track and field athlete to an equestrian was not an easy one, Nate explains it as his biggest hurdle."I found it hard from an athletic standpoint, and I found it hard, mentally. As an athlete in other sports, I was always a grinder. If I was missing my free throws I would go work on my free throws for five hours. This is a sport where you get such a limited focus time to improve. When the opportunity comes across and you're thankful when you have it, but you can't always just cultivate more out of thin air. I think that's the biggest hurdle was improvement throughout all different obstacles, situations, and horses. I'm very much a volume kind of athlete so that's hard in this sport. You can't just go jump 1,000 more jumps."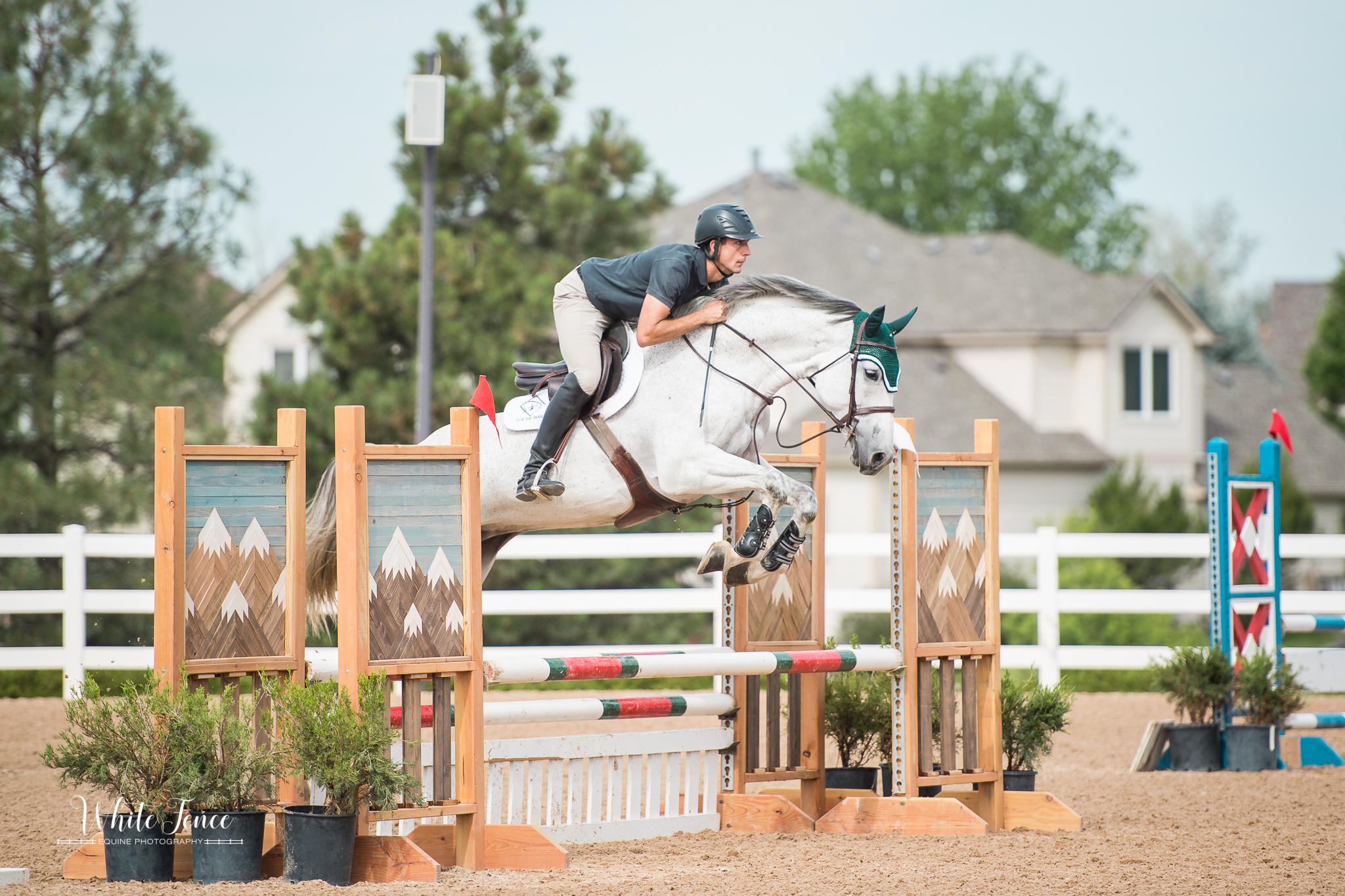 Nate's hard work paying off with a clean round
When Competition Manager, Marion Maybank, nominated Nate for the Admired Amateur article, she pointed out that in addition to showing, Nate's duties on the road extended from taking care of Ollie to mentoring the ODF kids and making dinners for their large group. He also manages much of the barn that traveled to CHP with almost forty (!) horses. It amazed Marion that with all of his responsibilities he would still regularly find enough time to stop into the show office and offer to bring her a coffee. After meeting with Nate, it's clear that he is an amateur, deserving of the spotlight. Marrying into such a prominent equestrian family undoubtedly has its positives. Nate happily supports the family and business, often from the sidelines. We are so grateful that we got to meet this wonderful member of the horse community and give him the public acknowledgment he deserves, as he truly is an Admired Amateur.
©Kristin Rashid/CHP
White Fence Equine Photography