To be a "pony kid," there are some important qualifications. First of all, you have to love ponies, and Parker, CO, native Ryder Richardson spends the majority of his time doing just that. The 11-year-old spends 6 of his 7 week days at Helicon Stables, where his two ponies currently reside. "If I could ride 7 days a week I would," joked Ryder, "but unfortunately, the barn is closed on Monday!"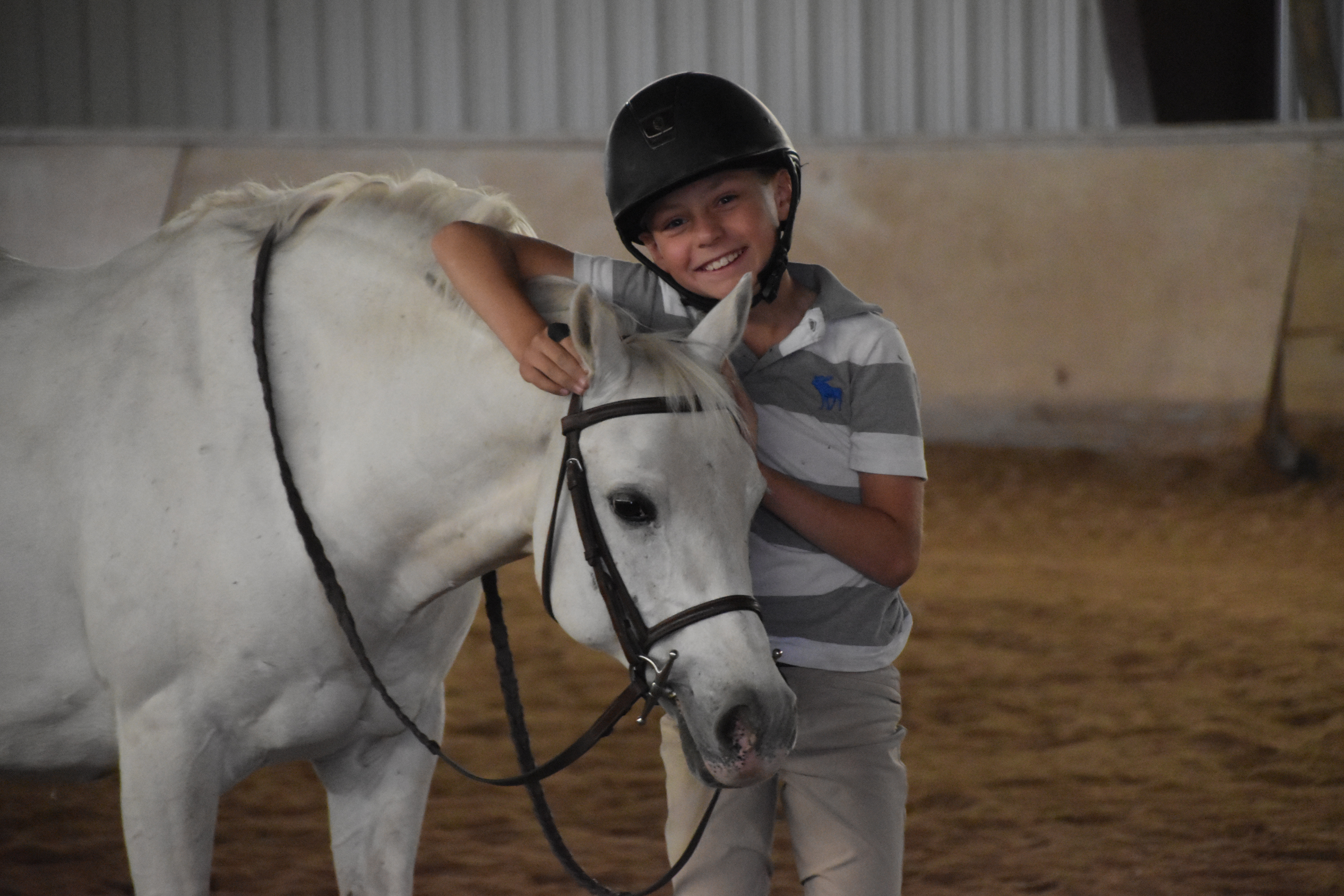 Ryder is owned by two sassy mares, the 16-year-old Mustang Sally and the 13-year-old Luna. I was quickly informed that the duo had two unique nicknames, Salad and Tuna, that were often combined to create the comical, "Tuna Salad."
While spending the morning laughing and observing the charming Ryder, I learned the ins and outs of this Colorado pony kid's world.
The following is a compiled list of the top five, unofficial pony kid rules that I gathered from my endeavors.

Rule Number 1: You must love your ponies.
As I rounded the corner of the barn, the first "person" I was introduced to was Mustang Sally. Priorities! You know that a little boy is passionate about something when he says things like, "Sally originally came from Germany and when I met her, I fell in love with her." And, "Luna changed my life. She gave me the confidence to really ride."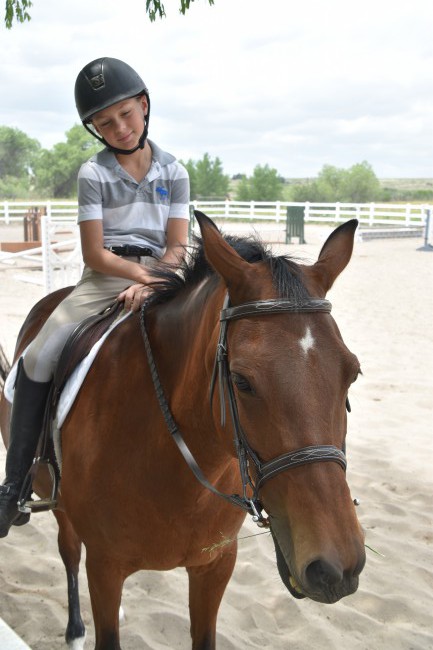 When I asked Ryder to describe his ponies, he used words like, "petite and opinionated." I learned that Sally likes things done correctly, while Luna helps build bravery.
While tacking up and walking to the arena, Ryder often cooed to Sally, patting her and telling her what a good girl she was. At one point, as Sally reached for some grass at the edge of the arena while Ryder was still on her back, he exclaimed with comical exasperation, "I have to deal with this all day, my sassy little girls!"
He was right, in typical pony fashion, he did have two sassy little girls.
While Ryder bathed Sally, Luna whinnied at him from down the barn aisle. "I love my ponies, and they deserve the best care," he commented as he let the warm water run over Sally's back.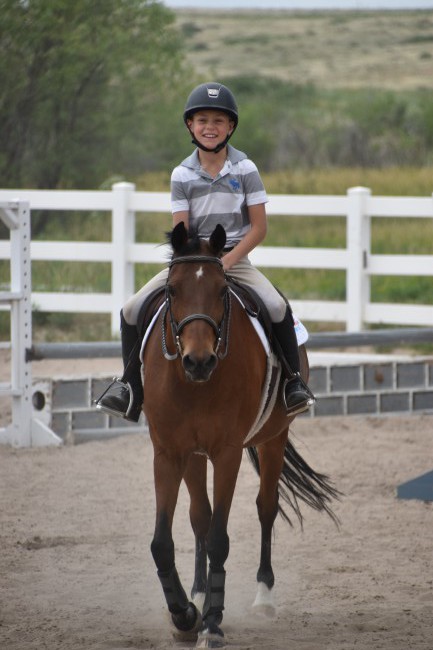 After returning Sally to her stall, he cross-tied Luna and fed her a carrot, followed by a kiss on the nose. "Sally only likes carrots, but Luna will eat everything. She's a piggy, but she's also more adventurous." He continued, "I really trust Luna. She's done everything with me. Polo, cross country, dressage, swimming, pony racing, hunters, jumpers. She's my girl."
With pure joy in his eyes, Ryder spent the morning tending to the ponies. It takes some serious dedication to deal with that much pony sass on a daily basis!
On that note, as The Beatles once sang, the first and most important rule, "all you need is love."

Rule Number 2: You should have a mantra.
This rule became apparent as soon as I asked Ryder what the plan for the future was, the discussion about his literal step-up from pony to horse. "That's probably another year or so away," he shrugged. "I want to stay with my ponies for as long as I can." He duly noted, "ponies rule, horses drool!" And there it was. The mantra.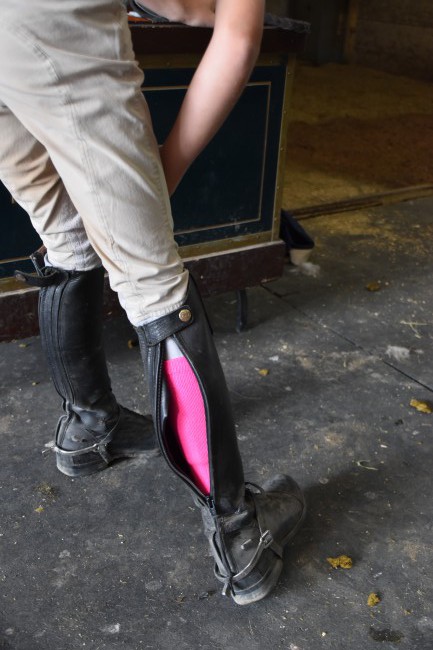 While we are on the topic of catch-phrases, we should also talk about habits and good-luck charms. Some riders have a lucky pair of gloves, or a play-list full of songs that they must listen to before a class. For Ryder, it's bright colored socks. "I always have bright colored socks on when I'm riding," he continued, "today they are pink! They're always hidden under my tall boots, but one time I forgot to roll them down at a horse show. I'm sure the judges thought that was interesting!"
The judges may not have thought it was amusing, but I certainly found it comical, as he pulled the zippers down on his tall-boot to reveal the neon pink sock hiding beneath.
The kid has style, there is no doubt about it. I now need my own mantra, and a trip to the sock store.

Rule Number 3: You need a hero.
All pony kids need a hero. When Ryder isn't at the barn or out on the lacrosse field, he is watching, reading, learning from, and observing the top riders.
His all-time favorite? The one and only Kent Farrington. "He read somewhere that Kent had a spur collection," commented Ryder's mom, Kelle. "So now Ryder is constantly collecting spurs. Last year he had to design a barn for school, and he put a bar in for the adults because he saw that Kent had a bar in his stable."
Now that is one barn that I would REALLY like to visit.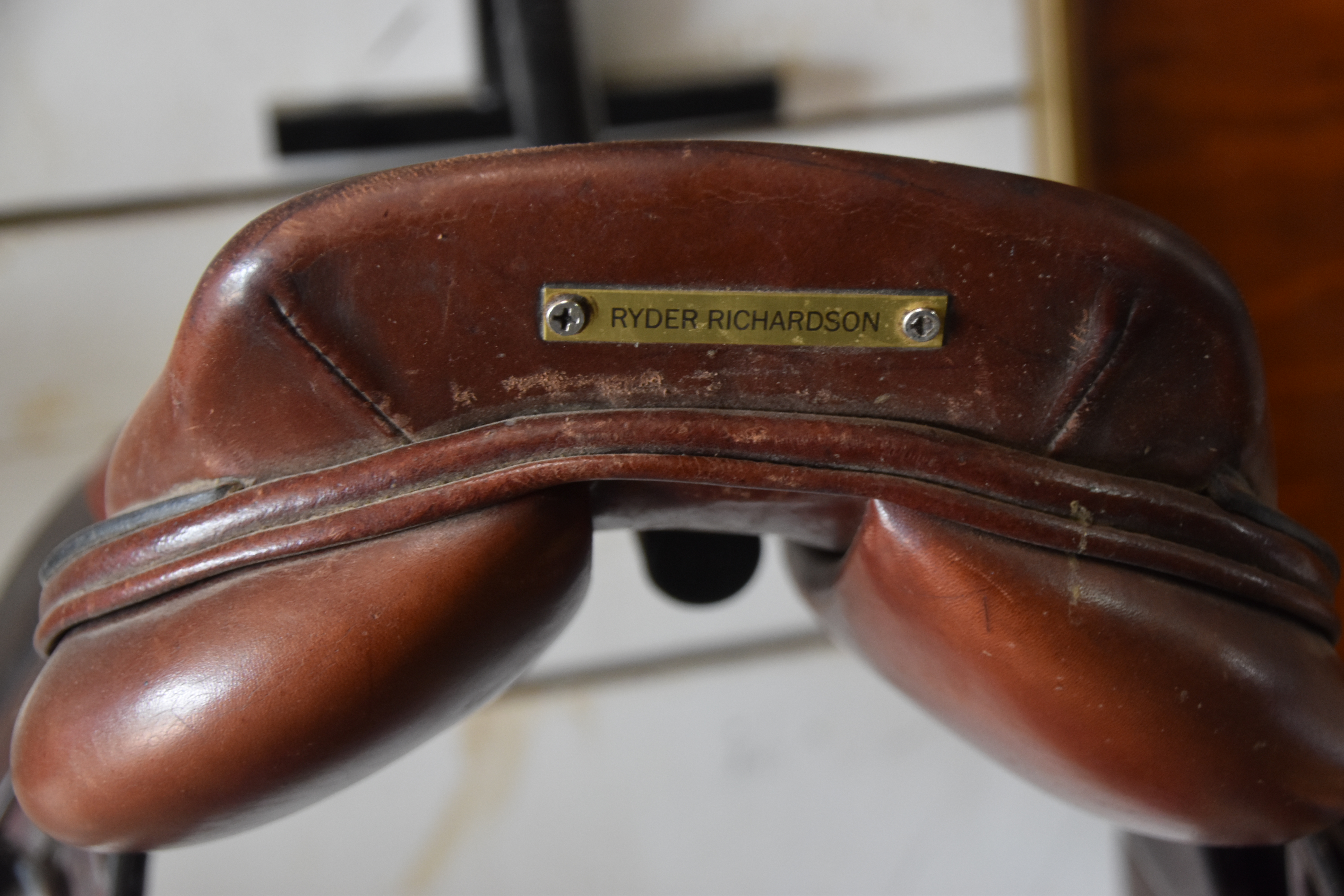 Rule Number 4: You have to be willing to learn and grow.
As I stood beside the vinyl outdoor arena fencing, Ryder trotted over to me, piloting an alert Sally. "I need to work on my arms," he said. "I get a little floppy sometimes. The reason for the chicken wings, I spend a lot of time watching videos of all of those top jumpers fly over the oxers!"
On top of his two ponies, Ryder typically rides three others' horses or ponies each day. On school days, the number goes down slightly, but he never gives up an opportunity to catch a ride.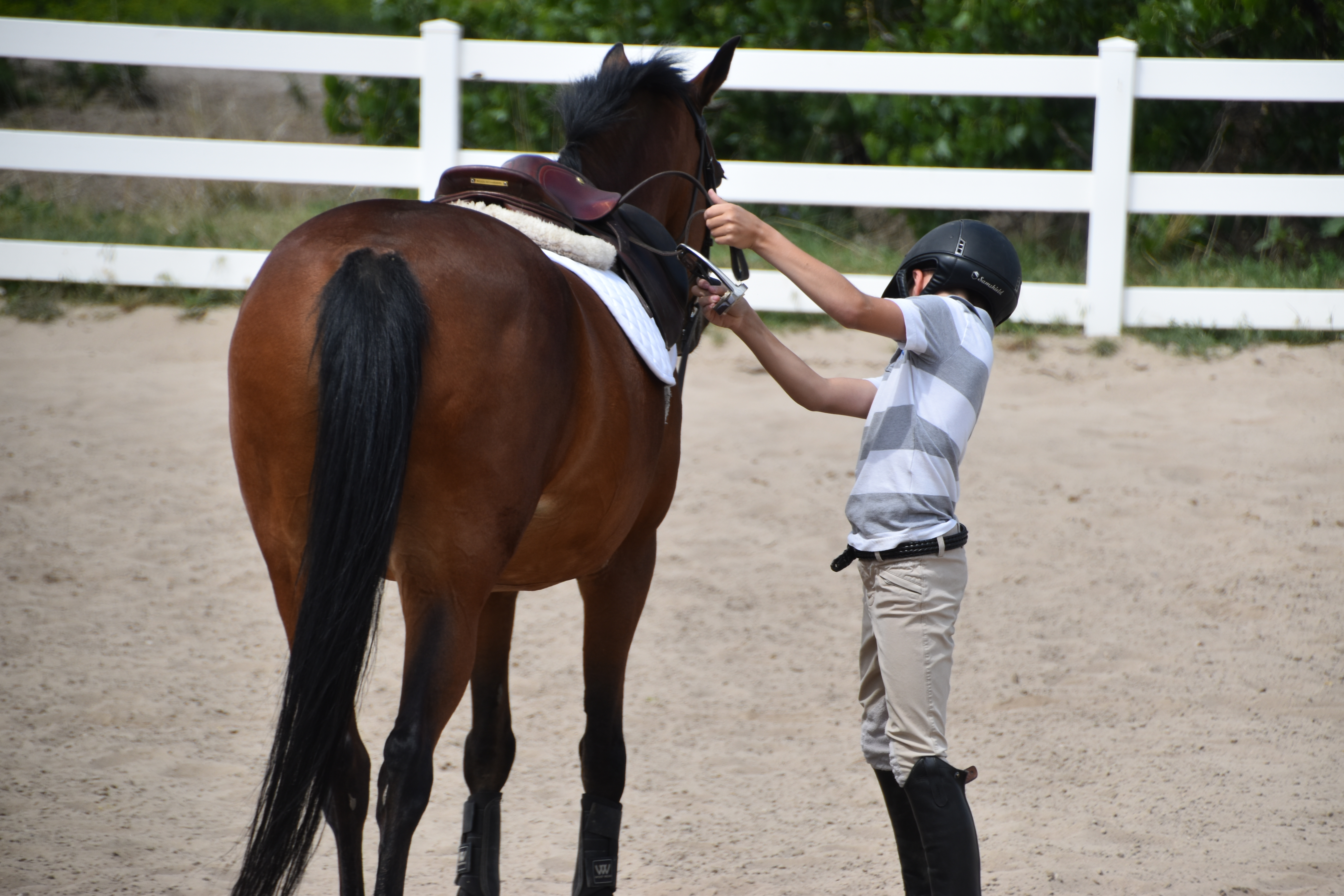 At Helicon, there are no grooms. "It's important that kids learn to do their own work," said Ryder.
Hard work is a natural ingredient in all equestrian success.
Rule Number 5: You need to dream big.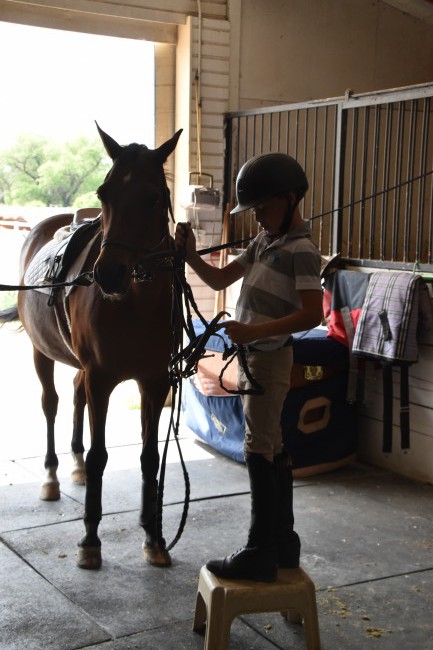 Ryder has several goals for the future. On top of owning a barn just like Kent Farrington's, one with an additional polo field and a garden that strictly grows carrots, Ryder also wants to start a clothing line for male pony riders, and create a foundation that helps introduce less fortunate children to the equestrian world.
When it comes to his riding goals, Ryder was clear. "I also want to go to the 2024 Olympics, and ride in the World Cup."
Amazing goals for an amazing kid.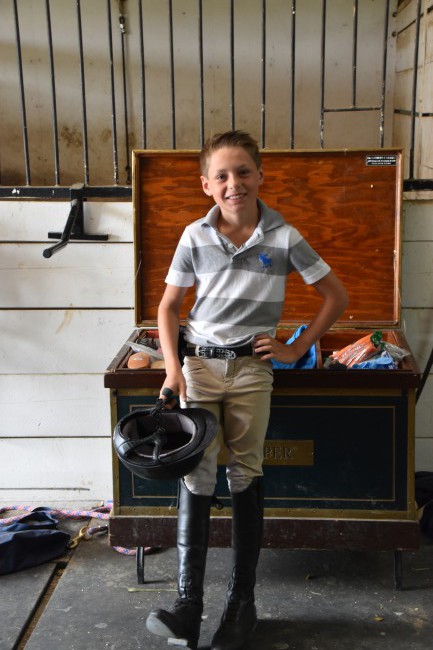 After a day spent with this incredibly driven pony kid, one thing is certain. These little up- and- coming riders are some of the most important people, in regard to the future of our sport. Great young riders can grow up to be great professionals, competitors, and horsemen and women. Let's take some time to cheer them on.
Here's to the ponies, and their awesome kids!