Scott Hassler, Michael Klimke, Steffen Peters, Lars Petersen, and Axel Steiner to Provide Educational Clinics and Seminar Opportunities Throughout Five-Day Event 
For Immediate Release
Parker, CO – February 15, 2017 – The Colorado Horse Park (CHP) is proud to announce the start of a new initiative aiming to bring an elevated level of exposure and clinic opportunities with world-class dressage riders to the venue through Dressage Symposium In The Rockies (DSIR) to be hosted from May 20-24, 2017.
DSIR will span five days and offer clinic and auditing opportunities with five internationally recognized dressage riders and professionals. The symposium will be hosted in benefit of the Rocky Mountain Dressage Society (RMDS) and is open to riders from around the country. The symposium will host clinic sessions focusing on mounted and un-mounted horsemanship, as well as improvements of technical dressage movements taught by masters of the sport.
"This is a very exciting venture for The Colorado Horse Park and for the breadth of equestrian enthusiasts in the Rocky Mountain region," commented Meg Krueger, COO of The Colorado Horse Park (CHP). "We feel that our organization is poised to serve as a catalyst for interest and exposure for equestrian sport and the Dressage Symposium in the Rockies will bring dressage back into the spotlight in Colorado. We're looking forward to hosting this educational symposium, just a few weeks before our inaugural FEI CDI 3*."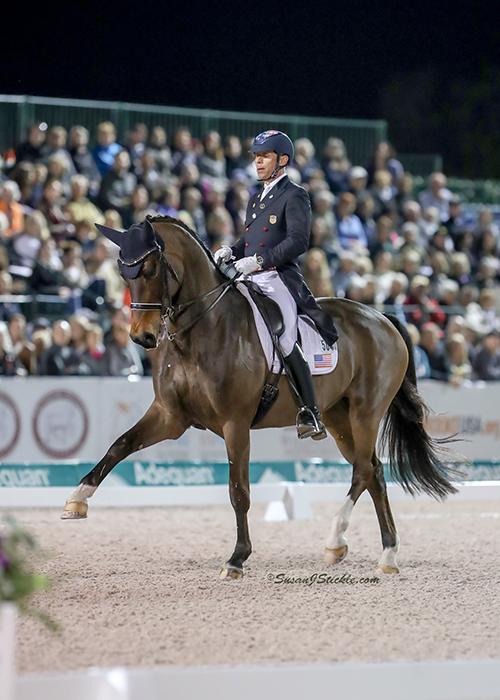 Steffen Peters will join Scott Hassler, Michael Klimke, Lars Petersen, and Axel Steiner as clinicians at the inaugural Dressage Symposium in the Rockies hosted at The Colorado Horse Park from May 20-24. 
CHP will welcome Scott Hassler, Michael Klimke, Steffen Peters, Lars Petersen, and Axel Steiner to the venue as headlining clinicians for the inaugural five-day educational event. Each day is open to auditors interested in attending the sessions. Packages of one, three, and five day passes are available and can be reserved by contacting ebaker@coloradohorsepark.com.
"The clinicians supporting the event are some of the world's best riders, trainers, and judges and we're looking forward to welcoming them to the venue and hosting an event that is both multi-faceted and positive for riders, auditors, and visitors to the Rocky Mountain region," Krueger continued.
Lars Petersen is a Danish dressage competitor and trainer competing in the US. He competed in the 1996 Summer Olympics where he finished in 12th in the individual dressage competition. He has two European Championship bronze medals and is a five time Danish National Champion. Petersen will teach sessions on Saturday, May 20, and Sunday May 21.
DSIR will then welcome Axel Steiner, a world-renowned FEI CDI 5* judge, who has sat on panels during the Olympic Games, FEI World Cup Finals, Pan American Games and other major CDI 5* events around the globe. Steiner will begin his portion of DSIR on Sunday, May 21, and conclude Monday, May 22, focusing his sessions on a Ride-A-Test format. Each session will span 45 minutes. Steiner will begin by helping participating pairs enhance their communication skills and cues, while the second day will offer the opportunity to select a test to work through and improve upon.
Michael Klimke, son of the famous Dr. Reiner Klimke, who currently competes for the nation of Germany and has served numerous positions in the dressage industry throughout his career, will host the next set of sessions at DISR. Currently competing at the FEI Grand Prix level, Klimke has been an integral member of the dressage community in Europe and Asia, serving as the National Team Coach for Japan in the early 2000's. Klimke will be hosting two sessions on Monday, May 22, and Tuesday, May 23, focusing on the classical techniques of dressage with junior, amateur, and professional riders, as well as working with young horses in-hand.
In one of the highlights of the symposium, 2016 Rio Olympic team medalist, FEI World Equestrian Games™ medalist, and individual Pan American Games gold medalist, Steffen Peters, will host two days of sessions on Tuesday, May 23, and Wednesday, May 24. Each clinic session will be 45 minutes in length and is open to junior, amateur, and professional riders. Peters will focus his sessions on preparing horse and rider combinations for competition, fine-tuning the movements and skills necessary to succeed.
Concluding the week of clinic and auditing opportunities, CHP will welcome Scott Hassler, one of the top trainers in the U.S. to the venue on Wednesday, May 24. Hassler has chaired the USDF Sport Horse Committee for many years and is active in the education and training of young horses and emerging professional riders around the country. Hassler will focus the final session of the clinic on guiding emerging horses through the education of their riders, offering confidence-building techniques that will ensure success. Junior, amateur, and professional riders are invited to participate.
Accompanying the featured educational seminars with clinicians, the symposium will also host demonstrations and exhibitions featuring local equestrians and a taste of the Wild West, as well as an expansive trade and vendor fair. If interested in reserving vendor space during DSIR, please contact lisak@coloradohorsepark.com.
For sponsorship and advertising opportunities available during the event, please contact Sarah Tredennick at stredennick@coloradohorsepark.com.
Additional clinicians may be added to the current schedule for DSIR. Click here to access the DSIR Entry Form and Release and to learn more about clinic opportunities please contact 
vvanburen@coloradohorsepark.com
.
Auditing opportunities will be available to individuals wishing to watch and listen to clinic sessions. General and VIP auditing packages, offering one, three, or five day passes can be reserved by contacting Elizabeth Baker at ebaker@coloradohorsepark.com.
General Admission packages will include an auditing notebook and pen, as well as free entrance to The Colorado Horse Park (CHP), while VIP Admission packages include daily catered breakfast and lunch, clinician meet and greet opportunities, sponsor presentations, gift bag, and VIP Parking Pass. Tourism and adventure packages are also available for booking through CHP's Concierge Service and can be reserved by contacting concierge@coloradohorsepark.com.
For more information on the Dressage Symposium in the Rockies click here. To learn more about The Colorado Horse Park (CHP) please visit www.coloradohorsepark.com.
Photo Credit ©SusanJStickle. These photos may only be used once in relation to this press release.
Media Contact:
Carly Weilminster
Marketing/Communications
cweilminster@equestriansport.com
(410) 245-7441